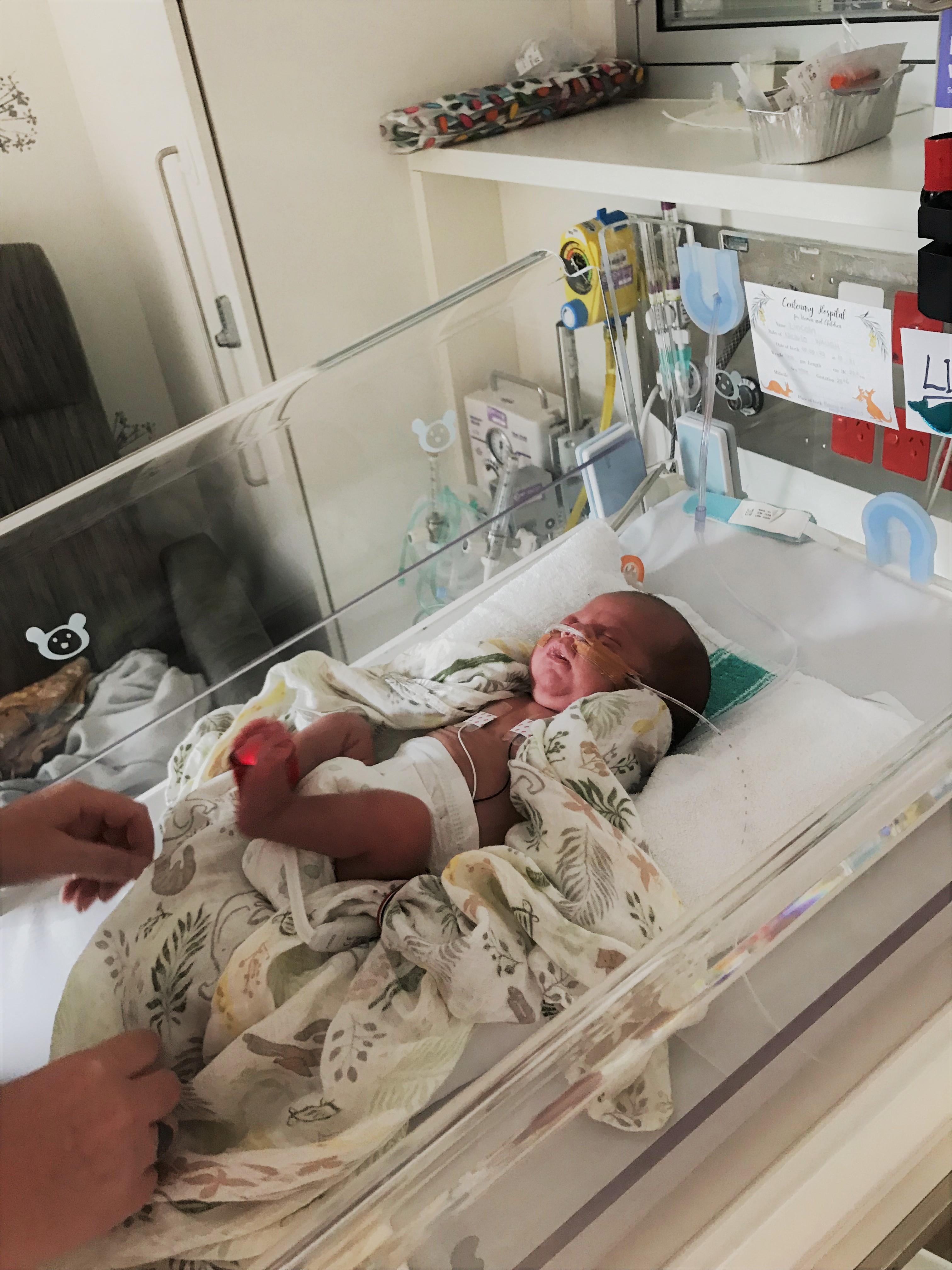 Two sons, two premature births, ten years apart at the House
Nicarla's journey with the Ronald McDonald House in Canberra has been an emotional rollercoaster. When she first stayed at the House 10 years ago (when the House was newly opened in 2012), she went into premature labour with her first son.

As a single mum, she not only found a roof above her head during a time when her newborn needed her at the House, but also a group of people that she could rely on to offer comfort and a break from everyday stress.

"Ten years ago, when I gave birth to my first son, I went into premature labor. Fortunately, the Ronald McDonald House in Canberra had recently opened and was able to accommodate me during my stay in the hospital. My mother, who was my support person at the time, was also able to stay with me at the House. We were there for six, nearly seven weeks, including over the Christmas and New Year period.

"The staff and volunteers at the time were amazing and made everything feel more homely by throwing little Christmas parties and making us feel welcome, especially during such a crucial time. Being a first-time mum, I was struggling emotionally with the possibility of my first child being born too early and being away from my family and home. It was a huge relief to have the Ronald McDonald House Canberra as a place to stay, and especially since it is connected to the hospital. It made everything so much easier and less stressful.
"The House was a lovely place to stay, not only because it was located in the hospital, but also because of the beautiful staff and volunteers who were kind and went above and beyond, such as washing up for us after meals and baking lactation cookies for us. When I returned to the Ronald McDonald House for the second time, I was actually less scared because I knew a home-away-from-home awaited me."

"I remember being so disappointed when Lincoln was born and we had to stay in Liverpool for five, nearly six weeks. I had to pay for my own accommodation and travel expenses which made things really difficult. But eventually, he was transferred to Canberra and I was able to stay at the Ronald McDonald House again. It was such a relief to have a place to stay where I could focus on my child without worrying about meals or accommodations.

"The House really has everything you could need and a sense of community with other families going through similar experiences. The staff, volunteers, and other organisations that contribute meals make it a wonderful, supportive place to be during a difficult time. I needed it more than ever both the times - the first time because I was a first-time mum and had anxieties around that; and the second because it was only four days before I went into labour that I found out I was pregnant so I was completely unprepared!

"I had been out of town for my brother's wedding, and then I came down with COVID. It was only when I fainted due to post-COVID complications that I was taken to the hospital and the doctors informed me I was 23 weeks pregnant. I had had absolutely no symptoms so had no way of knowing this was happening - especially after my first child I had decided not to have a baby again - but it was meant to be. And just as I was digesting the news of being pregnant, Lincoln decided to come early and I went into premature labour at exactly the same number of weeks that I had given birth to my first son in. And what's more, I ended up staying at the exact same room in the House as I did 10 years ago!"
"This charity has been a lifesaver. I honestly couldn't have coped mentally, emotionally, physically or financially if it hadn't been for the Ronald McDonald House Canberra.

Expressing milk and feeding times were much easier since I was able to stay at the House. And being able to be there for those midnight, 3am, and 6am feedings was a huge help. The House is so well equipped and has all the facilities and amenities I could need. My older son even comes to visit on the weekends and loves it. It is just one less thing to worry about, and it is a huge relief. The meals cooked by volunteers on Tuesdays and Fridays and the laundry facilities sound small but truly make such a difference."

"It is also comforting to be in an environment where other parents are going through similar things and can share their stories. It's just an amazing thing to have this support, especially when you're far from home and your own support network. When someone is donating to the charity, your money is not just going towards providing a roof over the family's head; you're helping parents and families survive and thrive during a very tough time in their life.

WATCH: Nicarla shares the impact the Ronald McDonald House Canberra had during & after the premature birth of her babies, 10 years apart.
Donate to support families in need
All funds will be go towards our Chapter's Programs that support families with children that are seriously ill, injured, need ongoing treatments/medical care, or are born prematurely with complications.
Ronald McDonald House Charities ACT & South East NSW
PO Box 635, Mawson, ACT 2607, Australia

Phone: (02) 6281 5894
Email: reception.canberra@rmhc.org.au

Ronald McDonald House Charities Australian Capital Territory & South East NSW is a Registered Charity (Canberra and South East NSW House Incorporated ABN 28 589 286 011) and a Public Benevolent Institution endorsed as a Deductible Gift Recipient by the Australian Taxation Office. Donations of $2 or more are tax deductible in Australia.